Gong Fu Cha tea ceremony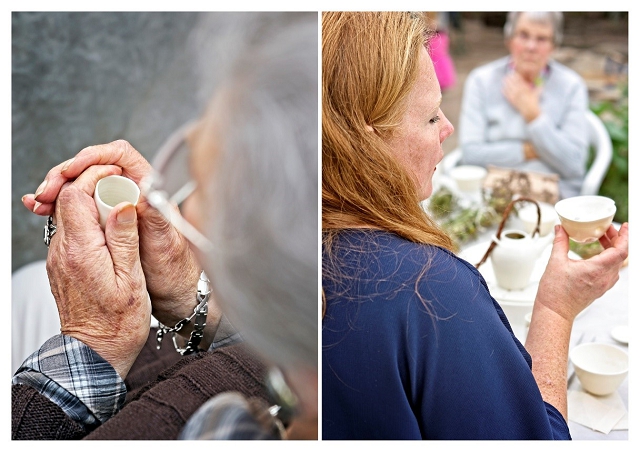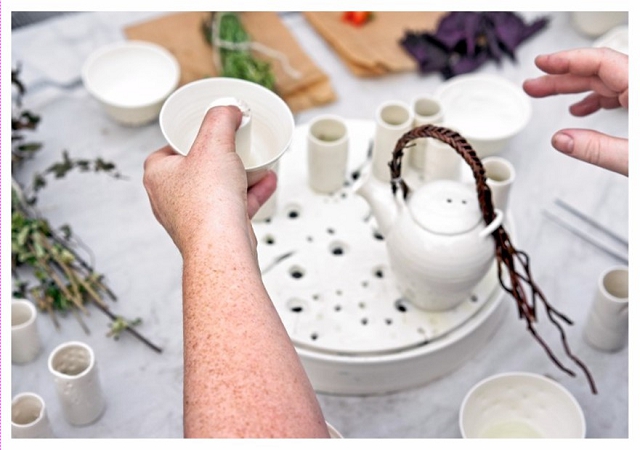 In 2017, the 'ZaaiGoed' foundation invited Liselore, of LiLo Keramiek, to design and make a tea set. Stichting Zaaigoed takes elderly people with Alzheimer's or a sensory impairment on a journey of discovery where the various senses are stimulated. They do this by means of a Zintuigentuin that has been laid out in Haarlem North. This has made it clear that through attention and the right stimuli, elderly people (with dementia) are capable of much more than we think. And leads to very diverse, beautiful, personal encounters and tangible things! Every year an artist is invited to be inspired by and to create an art project with the elderly.
Drinking tea makes people meet and invites stories to be told. Liselore found the Gong Fu Cha tea ceremony a good starting point. This ancient Chinese ritual activates the senses one by one. The warmth of the cup in your hands, the smell of the tea, the colour of the tea, the sound of the pouring and the rustling of the tea leaves. And last but not least, by the taste of the tea.
Liselore has designed the tea set in such a way that the participants become aware of how dementia increasingly affects the life of the patient and those around him. In the beginning, the disease causes minor annoyances. As the disease intensifies, life becomes increasingly complicated and difficult. Liselore has made small holes in the porcelain cups with things she has found in the sensory garden together with the elderly. This symbolises the development of the disease, but also the holes that become increasingly visible when you look at the brain of the patient on an X-ray. The first cups still have small holes in them, which makes drinking more difficult, but not impossible. The last cups have many more holes and fractures that make it impossible to drink from them. This shows the dark side of the disease.
After working with the elderly on this project for three seasons, Liselore organised a number of tea ceremonies. Instead of tea, she used herbs from the different sensory beds in the garden. During the ceremonies many beautiful stories were shared about both experiencing your senses and about dementia. During the last ceremony, at Gallery SPW 59 in Haarlem, the tea set was auctioned. The proceeds benefited the Zaaigoed foundation.
Readmore about the Zaaigoed Foundation here.